Events
Virtual Class | In The Kitchen w/ Brad Cecchi of Canon
May 23, 5:30pm pst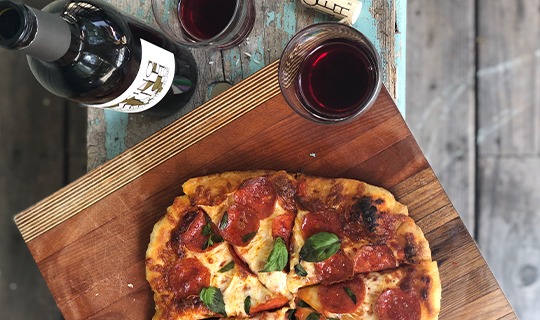 It's rare your home oven gets hot enough to make a proper pizza so Chef Brad Cecchi has been experimenting with the best at-home methods for a crispy bottom and doughy top (excuse us while we salivate). Grab your non-stick frying pan, you're about to expand your cooking skills with this incredibly delicious and satisfying deep dish pizza method.
Gather and prep your ingredients before the start of the cook-along.
Deep Dish Style Pizza
Serving: 1 x 10" pizza
8 oz. pizza dough (Trader Joe's or homemade, our favorite recipe is "Roberta's Pizza Dough in NYT Cooking))
1/2 cup olive oil for cooking
1 Tbl cornmeal
Toppings
1 cup chilled or room temperature tomato sauce (your favorite jar or, Marcella Hazan's Butter Tomato Sauce is a perfect recipe)
1/2 cup Shredded Whole Milk Mozzarella (or more to your liking)
1/2 cup Olives
1/2 cup Sausage
1/2 cup Mushrooms
OR Your choice toppings – vegetables, meat, pineapple, go wild!
Tools
Rolling Pin
10" non-stick frying pan – this pan needs to be able to go in the oven.
Sheet pan with a cooling rack
Oven pre-heated 425